Introduction
Conversations about death and dying can be challenging and uncomfortable. However, they are conversations that need to be had – discussions that empower individuals to make informed decisions about their end-of-life journey. Dying to Know Day, an annual campaign that encourages Australians to engage in meaningful discussions about this inevitable aspect of life, has emerged as a platform for fostering openness and understanding. This year's event held on August 8, 2023, at Hughes' Council on the Ageing ACT's Hall by Health Care Consumers' Association, proved to be an enlightening and impactful experience, shedding light on various facets of end-of-life matters.
The Essence of Dying to Know Day
Dying to Know Day serves as a day of awareness and knowledge, illuminating the path toward informed personal planning for one's future. Its mission is simple yet profound: to empower individuals to become advocates for their own end-of-life choices. In the month of August, Australians across all walks of life are encouraged to participate in a range of activities, including hosting events, home gatherings, and discussions aimed at breaking the silence surrounding death and dying.
The Dying to Know Day event at Hughes did just this, it offered a safe and welcoming space for attendees to engage in thoughtful dialogues about various aspects of end-of-life planning. The panel of experienced speakers, experts in their respective fields, discussed topics that often provoke apprehension but are undeniably important. The lineup included discussions on palliative care services in ACT, advanced care planning, wills, and funeral arrangements – crucial components that shape an individual's journey toward the inevitable.
One of the highlights of the event was Ann Monahan's insightful talk on palliative care services in the ACT. With a wealth of experience and expertise, Ann shed light on the critical role of palliative care in enhancing the quality of life for individuals facing life-limiting illnesses. Her talk provided attendees with a deeper understanding of services available in ACT.
Among the topics discussed by Ann, our non-clinical respite centre known as Leo's Place garnered considerable attention. Attendees were eager to learn about this unique facility that provides much-needed respite and support for individuals and families navigating the challenges of life-limiting illness. The warm reception from the audience affirmed the significance of such centres, highlighting the need for accessible and compassionate respite care options.
Participating in the Dying to Know Day event in Hughes underscored the importance of open conversations surrounding end-of-life matters. These discussions have a ripple effect, fostering understanding, empathy, and preparedness. By embracing the opportunity to engage in these dialogues, individuals can gain valuable insights, dispel fears, and make informed decisions that align with their values and wishes.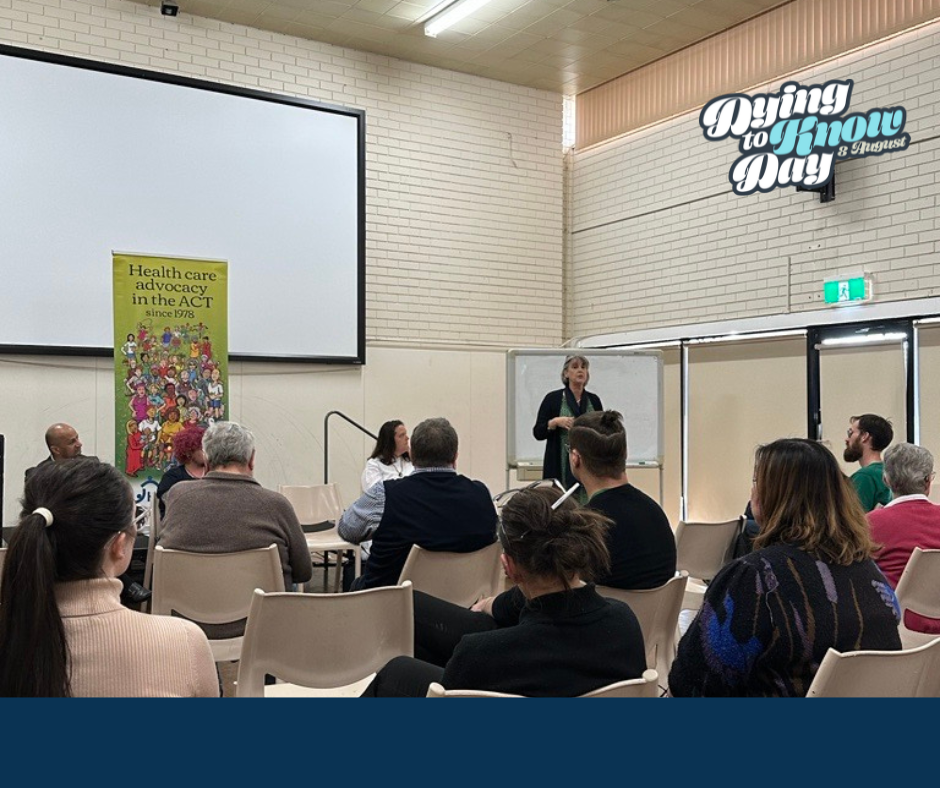 In conclusion
Dying to Know Day 2023 in Hughes was not merely an event; it was a steppingstone toward breaking the silence and embracing the inevitability of death. Through engaging panel discussions, expert insights, and the enthusiastic participation of attendees, the event illuminated the path toward informed end-of-life planning. Ann's informative talk on palliative care and the spotlight on Leo's Place showcased the multifaceted support available for those in need. As we reflect on our participation in this year's event, let us recognise the power of conversations in transforming our relationship with death and enriching our understanding of life's final journey.
For more information about Dying to Know Day and its mission, visit the official website at https://www.dyingtoknowday.com/