Introduction:
We are thrilled to share the incredible success of Palliative Care ACT's recent fundraising dinner, held on 29th April 2023 at the QT on London Circuit. With close to 500 esteemed guests in attendance, the evening was a remarkable celebration of the invaluable work carried out by Palliative Care ACT in our community. We extend our deepest gratitude to all the generous supporters who made this event an outstanding triumph.
Raising Funds for a Worthy Cause:
Thanks to the unwavering support of our community, the fundraising dinner raised an impressive sum of close to $180,000. These funds will go directly towards providing crucial services to individuals living with life-limiting illnesses and their families in Canberra. All contributions will make a significant impact – offering comfort, care, and support during challenging times.
A Groundbreaking Announcement:
The event was made all the more memorable by a momentous announcement—the John James Foundation will be spearheading the construction of Australia's first permanent non-clinical palliative care respite accommodation. After over eight years of dedicated work, research, and fundraising, this achievement marks a significant milestone in our mission to enhance the quality of palliative care in our region. This purpose-built accommodation will provide a much-needed sanctuary for patients and their families, offering respite, comfort, and compassionate care.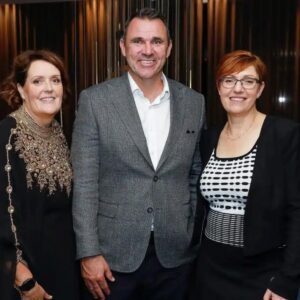 Promoting Research for Future Progress:
During the dinner, we also had the privilege of unveiling the Research Award grant. This initiative invites organisations and individuals to support vital research endeavours aimed at improving palliative care outcomes. By sponsoring research, you can create a lasting legacy and contribute to advancements in palliative care that will benefit countless people. We encourage anyone interested in this initiative or wanting more information to reach out to our office.
Looking Forward:
Building on the tremendous success of this year's gala dinner, we are thrilled to announce that the next event is already on the horizon. Mark your calendars for the 1st of June 2024 as we gather once again to celebrate and support the invaluable work of Palliative Care ACT. We will be reaching out to you in the near future, inviting you to continue your vital support and join us in making a difference in the lives of those facing a life-limiting illness.
Thank You:
Finally, we want to express our heartfelt gratitude to all the attendees, sponsors, donors, and volunteers who made this event an unforgettable evening of compassion, generosity, and hope. Your belief in our mission and commitment to our cause fuels our passion to provide the best possible care for those in need. Together, we are transforming lives and creating a brighter future for palliative care in our community.
For more information about our initiatives or to get involved, please don't hesitate to contact us or visit our website. Thank you again for your support, and we look forward to your continued partnership in championing palliative care.